Solving People Performance Problems in the Workplace ™


© 2009-2017 Clarity Performance Alliance, LLC



Solving People Performance Problems in the Workplace ™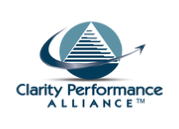 About You
You and Your Needs


Making an Impact
Are you or your organization challenged to:
Overcome uncertainty regarding the underlying causes of inferior performance?

Make optimal decisions regarding the acquisition of a new company?

Make sure your efforts provide a high ROI and directly impact the organization's bottom line?
Even if you think you know what's wrong, how do you know that you're doing the right thing? You have to convince others to make a business case, otherwise you can't get the improved performance you need. You need to have

clarity

.
Increased Performance
Have you or your organization found it difficult to:
Improve department, division, or company performance?

Obtain expected results from a new acquisition or merger?

Are you interested in making improvements to get the best price for your company or division when you sell it?

Identify business performance problems, implement optimal solutions, and measure the results to validate those solutions?
It isn't easy to identify what's impeding performance, especially when you're in the middle of the problem. You need improved

performance

to stay competitive.
Getting Things Done
Are you feeling:
Overwhelmed by the scale of this effort–from identifying the true causes to finding the best solutions to orchestrating the efforts of everyone needed?

There aren't enough hours in the day to accomplish everything needed to be successful?

You don't have the resources–from time to people–to undertake any effort that would make a difference?
In today's business environment, many of us feel that there isn't enough–enough time, enough people, enough understanding. Working with the right consulting firm can provide those resources. You need an

alliance

with someone who will listen, collaborate, and add value. You need Clarity Performance Alliance.