Solving People Performance Problems in the Workplace ™

About Our Work
Success Stories



© 2009-2017 Clarity Performance Alliance, LLC



Solving People Performance Problems in the Workplace ™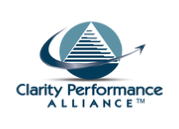 Money Saving
A client was spending $700,000 annually in direct costs training employees throughout the US and Canada. Trainers spent many hours every month traveling to North American cities to deliver training.
A Clarity member worked with the client to devise a distance learning approach that cost only $250,000 to implement the first year and cost $75,000 annually thereafter, saving the company $625,000 a year after the first year.
Two years later, the company merged with another company and we helped implement the same plan, thereby saving the second company a similar amount.
Award Winning
A supplier of materials to a major restaurant chain had problems responding to excessive change orders in their supply chain.
A Clarity member led a supply chain and process re-engineering project enabling order fulfillment, contracting, invoicing, and payments to run more efficiently.
Working with the restaurant chain, its suppliers, the marketing and advertising company, and the supplier's holding company, we designed an "outside the box" process for annual contracts. This included building in expected changes, electronic billing and funds transfer, incentives for quality and for timely suppliers, and more creative jobs in the client's company.
The result was a more efficient process with stakeholder acceptance, a $500,000 per year savings, and a Supplier-of-the-Year Award.
Complex
A telecommunications company was introducing a new integrated service. To support the service, the company introduced a new system, providing for one point of customer contact. They were also changing the work process flow and the roles and responsibilities of all the technicians.
During the engagement, a Clarity member discovered the employees did not know the current work process or the impending changes in work processes. They also did not want to change their existing work patterns.
Working with our client from beginning to end, we designed and put in place, a systematic change management process to enable different groups to work together.
New work processes and job roles were established. An electronic performance support system was created. An attitude change video, overview video, and training course was developed to introduce the new service, processes, and job roles.
To ensure everyone was proficient, skill training for the new system was created and carried out.