Solving People Performance Problems in the Workplace ™


© 2009-2017 Clarity Performance Alliance, LLC



Solving People Performance Problems in the Workplace ™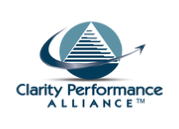 About Our Work
Practice Areas


Organizational Performance Improvement
The key to great business performance is understanding people–what incentives they need, what barriers keep them from doing their best work, what really motivates them to perform at their very best.
Our proven human performance improvement methodology can often find the simplest, most direct and cost-effective ways to accomplish the most outstanding results imaginable
Training & Course Development
Although training is often the first solution managers think of to solve performance problems, it's often not the root cause of the performance problem or only part of the solution. Without a thorough but rapid performance analysis to find the real cause of the problem, often time and budget spent on training solutions is ineffective.
In those cases where training is

a bona-fide solution or part of a solution to a performance problem however, Clarity Performance Alliance has Instructional Design experts to develop, implement, and evaluate training solutions with maximum impact.
Mergers & Acquisitions Optimization
There are several opportunities to optimize the buying and selling process using our proven human performance improvement methodology. We often find hidden opportunities and problems if we are brought in during the due diligence phase. If we come in after the deal is completed, we can help assure the acquisition or merger goes as smoothly as possible.
If you manage a Private Equity Fund, Pledge Fund, or are a Fundless Sponsor, we can optimize your current companies to provide higher returns during your holding period.
Alternative Dispute Resolution
Disagreements happen all the time. Most times you are able to resolve them on your own. Sometimes a disagreement takes on a life of its own and begins causing problems.
Whether work can't be accomplished, an important deal is in danger of falling apart, or you're worried about the results on employee morale, resolving disagreements that have a negative impact is extremely important.